patio cooling systems
Arizona Misting Professionals
From portable systems to industrial units, whether you need to cool your patio at home, school, church, office, restaurant or an event, we have engineered products that work.
Cooling, dedusting, mosquito control, allergen reduction, and air quality control.
High quality systems manufactured in Arizona
Reach out to 408 763 3785 or text to 602 463 0907.
We meet or beat quotes! Apples to apples.
Misting Patent products since 1995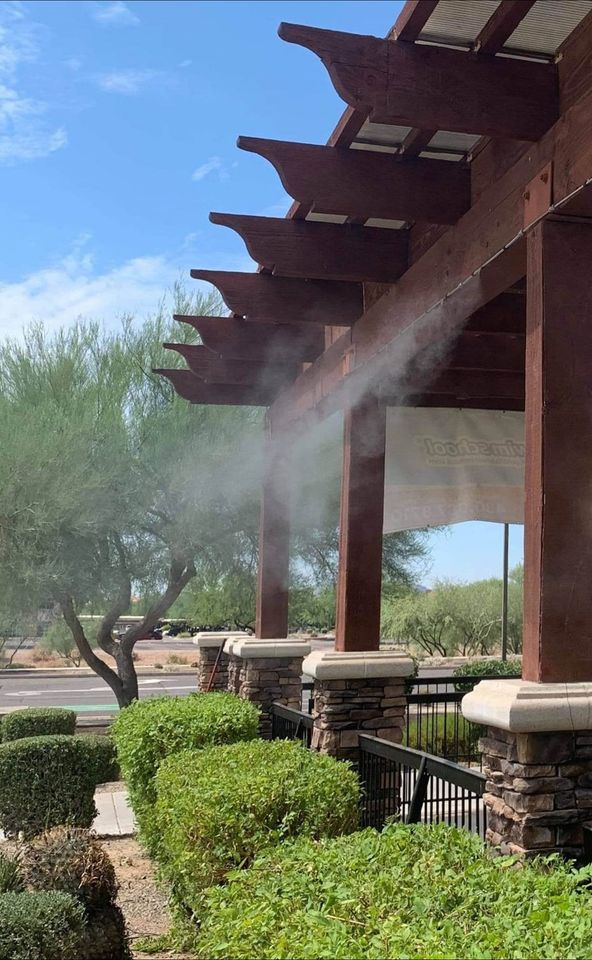 Portable Misting
If you want to just cool an area and there is not electrical or water source, your best option is to mist the area with a PortaMist.
Mix it with organic oils and you have the best mosquito repellent or instant aroma therapy.
More info? Watch some of our videos
Misting reviews
The misting system from PortaMist is awesome! After seeing it in action last week at the national hardware show I can't wait to buy one for my deck!

Nathan D. Romig
We just purchased our first Portamist. We live in Denver, CO where the weather has switched to summer. We received our product just in time for the holiday weekend full of BBQ's. We have been outside all weekend on our patio, where the temperature was 95°. With the Portamist, it felt more like 75°. I would recommend the Portamist to anyone who loves the outdoors.

Great product, Portamist!! Thank you!!!

Susan Pace
Love my Portable Misting system it was easy to set up and it cooled everything down quickly. Highly recommend it you can use it everywhere.

Christopher Swisher
Love my Porta Mist!! I got it up and running from out of the box in less than 5 minutes. Ready for Summer! Bring it on AZ!!

Geoff Dugan
I absolutely love my Porta mist! We have used it at outdoor functions like NASCAR and country thunder to keep us cool In the AZ heat. Now we are using it on our pontoon boat under the Bimini to keep the older folks cool. This was money well spent! Thank you guys!

Chris Buckley